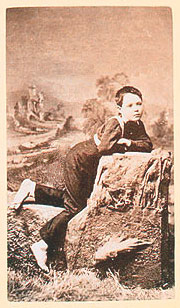 Photo of John Hindley, 1873; the only child saved from the wreck
The poem is about the SS Atlantic that was wrecked near Prospect, Nova Scotia on the 1st of April, 1873. In the poem Charles Fenerty made a footnote saying:
The ocean steamship Atlantic, carrying a large number of passengers, was wrecked near Prospect, N.S., every women and child perished; saved was a boy. Numberless bodies washed ashore and were buried in a common grave near the scene of the catastrophe.
The Citizen (Halifax, NS) on Thursday April 3, 1873 wrote:
The total known to be saved is 439, and as there were 976 persons on board, this would leave the sad total of 647 lost... Perhaps the most sad part of this calamity is that not a single women, (and only one child, a boy of six years of age) was saved.