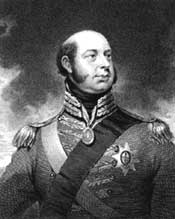 And Courtiers and Gallants move round in the light ;
And maidens with pearls and with jewels bedight ;
And foremost in grace, and in station is seen,
The courtly Prince Edward, the sire of our Queen.
Prince Edward Augustus, Duke of Kent and Strathearn army officer; b. 2 Nov. 1767 at Buckingham Palace, London, England, fourth son of George III, King of Great Britain and Ireland, and Charlotte Sophia of Mecklenburg-Strelitz; d. 23 Jan. 1820 in Sidmouth, England. Wentworth built a cottage just north of Halifax on the west side of Bedford Basin which he called "Friar Lawrence's Cell."